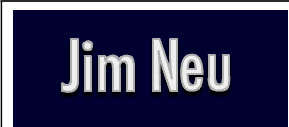 GANG OF SEVEN, 2008
La MaMa E.T.C.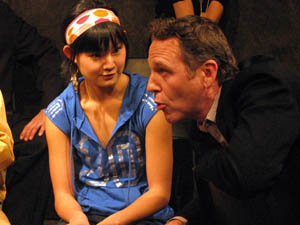 Kristine Lee, John Costelloe. Photo by Nadia Kitirath.
The play cunningly anticipates what will happen when ordinary gatherings for market research get infected with the human potential movement. Alone, this play's "Gang of Seven" are harmless normal citizens. Together, their volatile mix of personal chemistries creates an explosive brew of attitude, greed and collective identity. They are so empowered with team spirit that they begin to feel omnipotent. We see them pushing their mental envelopes, re-imagining their group as the grand information assembler, chosen to reorder reality for the country, or maybe the world.
The play is a fascinating satire of business doublespeak. The euphemistic language of marketing executives is adopted as ideology by the members of this media-saturated group, who swoon for such "future" ideas as "Facadism" and the "Mythosphere." Power is found in the reordering of information. Nostalgia, for them, is remembering their parents filling in product surveys with a ballpoint pen. They unify behind a business idea--The Reality Bowl--with a leader who boasts, "everything I've ever done has been right on the cutting edge of legitimate." Their ride into the euphoria of this value proposition is the journey of the play.

Mike: everything I've ever done has been right on the cutting edge of
legitimate
Frank: the Amermican Dream!
Mike: find a niche nobody saw before and carve your initials in it
Sandy: praise the lord!
Mike: the reality bowl is poised to make noise
Sh'rell: what's our next move?
Mike: we create demand
Ray: how do we do that?
Mike: we rumorize
Neu's talent is that he faces these heady issues with a light touch, a raised eyebrow, and a Puckish wit; few playwrights can carry off such breezy intellectualism. The hour-long piece, directed by longtime collaborator Keith McDermott, is Neu's strongest and tightest play in years. A nearly nonstop feast of logic-bending "façadism," psychobabblish bon mots, and hilariously dry-eyed tangents about smear campaigns and sports-arena bloodlust, it brings existential confusion into tight focus. -- Robert Simonson, Village Voice (read full review)
Jim Neu... has struck again with "Gang of Seven," a brief but engaging torrent of intriguing ideas and dizzying wordplay. Largely a conversation among seven archetypes seated onstage, the play raises a heady froth of provocation within its hourlong running time...."Gang of Seven" rewards repeat viewing--once is not enough to savor the abundant verbal pirouettes.... By the end you may not have retained all of the play's notions, but your brain will be abuzz with them. -- Andy Webster, New York Times (read full review)